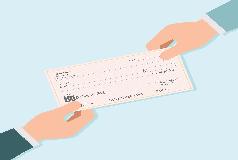 If you find that you owe a large sum of money to the IRS when filing your latest tax return, you may also discover that you simply don't have enough money at the moment to pay the entire amount that's shown on the bill. If so, it's important that you take the right steps to mitigate the penalties that occur when you don't pay the full amount.
Make Sure That You Still File Your Tax Forms
A range of penalties may apply when you fail to file your return and fail the pay the amount that you owe. One of the easiest ways to reduce the amount that you owe is by at least filing your return on time, which should be done by the April 15 deadline. Separate fees can be collected for failing to file and failing to pay, which is why doing one of these things should reduce your overall fees.
Consider Paying in Installments or Refinancing Your Home
If you owe less than $50,000 in taxes but the sum is still substantial, you might want to consider an installment agreement. If you file federal form 9465, the IRS will let you know within a period of 30 days if your request has been granted. You could also think about refinancing your home as a means of paying off these debts. It's possible to convert usable assets into resources to pay the amount that you owe.
Make a Partial Payment for the Time Being
It's always recommended that you pay at least some of what you owe. Doing so will lessen the penalty fees that accrue following the typically April 15th deadline. If you have yet to file your tax return, make sure that you send the check, cashier's check, or money order with the return to the U.S. Treasury. Certain information like your name and social security number will also need to be included on the memo line of the check or money order. You should also think about speaking with a Las Vegas CPA to gain a better understanding of the options that are available to you.