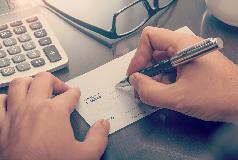 While the tax code changes slightly with each passing year, substantial changes were made towards the end of 2017 that went into effect for the 2018 tax year. From tax bracket changes to alterations with standard deductions, there are many tax changes that you will need to be aware of when getting your tax return ready.
Tax Bracket Changes
Whether you're filing a joint return or a head of household return, the tax bill that was signed into law at the end of 2017 has altered the tax rate that you can expect to pay. While there are still seven separate tax brackets, these tax brackets have lowered somewhat. The previous brackets included separate tax rate percentages of 10, 15, 25, 28, 33, 35, and 39.6 percent. The 2018 changes have altered the tax rate percentages to 10, 12, 22, 24, 32, 35, and 37 percent, which are marginally lower. The amount that you can earn before falling into these brackets has also changed. For instance, the highest rate of 39.6 percent under the old tax laws applied to any individual earning more than $426,700. Under the current law, the highest rate of 37 percent applies to any individual earning more than $500,000
Standard Deduction Increases
For the 2018 tax year, the standard deduction has been nearly doubled. If your tax filing status is "single", the previous standard deduction of $6,500 is now $12,000. However, the personal exemption has been eliminated with these changes, which means that you won't necessarily be able to deduct twice as much as you have done in previous years.
Additional Tweaks and Eliminations of Deductions
The mortgage interest deduction can now only be used with mortgage debt that reaches $750,000 as opposed to $1 million. The medical expenses deduction has been reduced to 7.5 percent from 10 percent of your adjusted gross income. Some deductions that are being completely eliminated include tax preparation expenses and moving expenses. If you need help identifying which changes to the tax code are set to affect you, you might consider speaking to a Las Vegas CPA who can assist you in filling out your tax return without making mistakes.