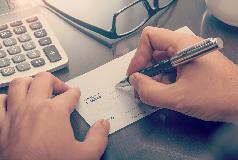 In most cases, failing to file a tax return on time is considered a more serious offense than not paying your taxes owed on time. Typically, you will face a penalty of 5 percent of the overall tax balance owed for each month or partial month the return is late up to 25 percent. The penalty may increase if you don't file a return 60 days after your applicable due date.
When Do Penalties Start to Take Effect?
Financial penalties are assessed from the moment a return is filed late. For instance, if a personal income tax return was due on April 15, the IRS could start assessing penalties starting on April 16. A CPA in Las Vegas may be able to keep you informed of when a personal tax return is due and if you owe money to the federal government.
What If a Tax Return Is Filed More Than 60 Days After the Due Date?
Let's say that your tax return was due on April 15, but you didn't file your return until July. Since that would be more than 60 days after the return was due, you would owe the lesser of $205 or 100 percent of the tax owed. It is important to note that the government will waive this and other penalties if you can show reasonable cause for not filing a tax return in a timely manner. Reasonable cause may involve being a victim of a scam or being a victim of a natural disaster.
You Can File an Extension
The IRS will generally allow you to request six extra months to file your tax return for a given year. This can be helpful if you are waiting on documents from a brokerage or other source to complete a return. Your accountant can file an extension on your behalf if necessary.