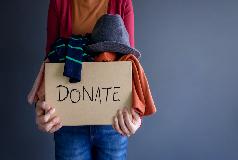 The Salvation Army, Goodwill, and independent charity shops collect gently used items and resell them as a way of generating funds for their activities. These non-profit organizations offer you a receipt when you donate items. You may be eligible to receive a tax deduction for the value of the items, but it is important to work with your accountant in Las Vegas in order to make sure that the value you place on the donated items is accurate.
Research the Value of Collectibles
Perhaps you are donating your old baseball card collection or some old Hot Wheels toys. These items may have a higher value if they are in good condition and have collectible status. Consider researching several price guides for specialty items and valuing the donation at about the lowest point in the pricing guide. Retain the pricing guide or a copy of it for your tax records.
Consider the Purchase Price
Consider the price you paid when you purchased the item. For example, if you paid $70 for the silk blouse, it may be fair to value it at $7 to $14 for donation purposes. Value it at $7 if it is in fair condition and closer to $14 if it is in pristine condition or still has its original tags.
Use the Thrift Store's Pricing
Another good way to set the value of items you donate is to take a walk through the thrift store you donated the items to. Look at the prices they put on items. Perhaps all men's pants are $4.99. Use this value for your taxes. Maybe items have different prices within a range, such as $1.99 to $9.99 for women's dresses.